The developer of the game, Klei Entertainment, announces the release date for a version on a new gaming platform. Don't Starve Together will soon be available on Nintendo Switch!
The popular survival game Don't Starve was first released on April 23, 2013. Due to its rising demand, Klei Entertainment then released a standalone multiplayer version of the game called Don't Starve Together. It was initially released on early access on Steam on April 21, 2016. It showed similar gameplay features but more players can survive together instead of by themselves.

The game developer Klei Entertainment announced on their official forum that Don't Starve Together for Nintendo Switch will be released sooner than we think.

Don't Starve Together is an indie adventure multiplayer game with the main goal: DON'T STARVE. It can be played by 1-2 players on a single system, and 1-4 players on local wireless and online.

This wilderness survival game allows you to travel in a strange world with creatures, hazards, and surprises. Unravel the mysteries of the odd land with your own gaming and survival style. You may gather your resources and craft items and plant your food.

Mark your calendars! The official release date on Nintendo Switch is on April 12, 2022.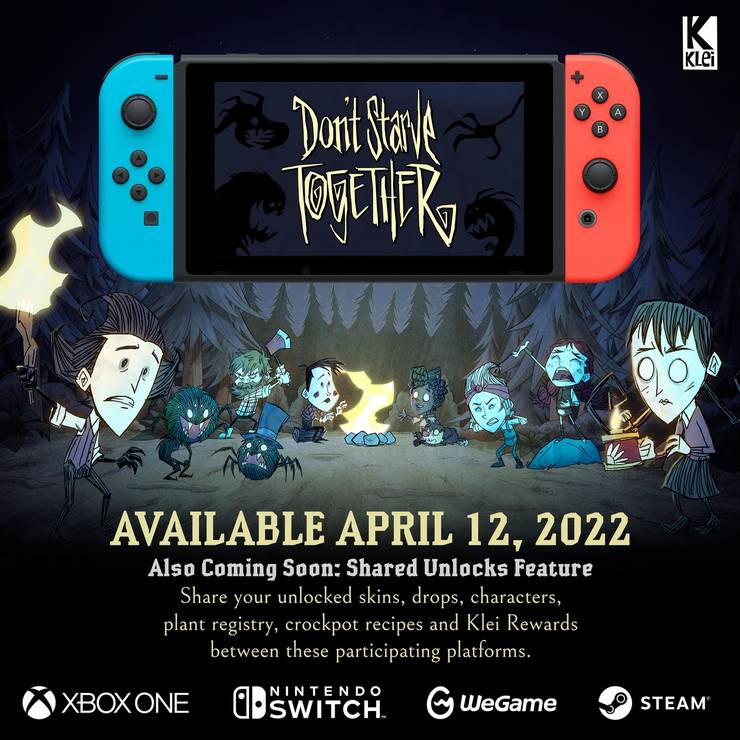 Another gift from the developer: the excitement does not end with the release date! According to Klei Entertainment, players will be able to share unlocked skins, drops, characters, plant registry, crockpot recipes, and Klei Rewards between these participating platforms. The participating platforms are Xbox One, Nintendo Switch, or PC.

Players will be able to merge their account across platforms into a single Klei account. All accounts will share a "drop pool" once they are all connected. You can share almost everything except for Bolts. Bolts cannot be shared across platforms.
The sad news is that the new game feature is not available for PS4 yet. This is mainly due to many requirements to make it possible. Klei Entertainment does say that once it is possible, they will definitely implement it. Also, even though items can be shared into one account across platforms, crossplay is not yet possible at the moment.
The multiplayer game Don't Starve Together is currently available for play on PC, PS4, and Xbox One. The official Nintendo Switch version will be released on April 12, 2022.
For more gaming updates and promotions, follow Gamory on social media: Facebook, Twitter, Instagram.